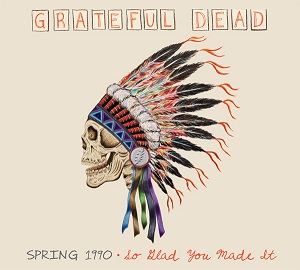 It's Super Bowl Sunday and although I live in Denver I'm pretty much indifferent to the Broncos. Don't get me wrong, I love watching Peyton Manning play. The guy is a wizard out there. But I'm not a Denver native so I don't live and die with the Broncos. In fact, I'm much more partial to college football, even though my team (Michigan) has been a disappointment of late.
Yesterday's cold grayness gave way to a bright sunny day today here on the Front Range, albeit still cold. The stereo in my car is capable of playing MP3 CDs, so instead of carrying audio CDs around what I've started to do is take a few shows from a given year, burn the MP3s on to a CD and keep that in my car. My Dead 1990 MP3 CD has several shows from the Spring 1990 box set. I own the complete 6 show set, but the this particular track was also included on the 2 disc compilation of that box set So Glad You Made It. Because this was in my CD player today's selection is somewhat by happenstance, although I suspect this will be a common theme throughout this process.
My wife is by no means a Deadhead, but I've noticed that when my son is in my car with the Dead playing he rarely, if ever, asks to turn on different music (i.e. kids songs), but he does it all the time in my wife's car. Is Mom more of a pushover when it comes to the radio? Or does he just not like her "country" music?
The Spring 1990 tour was recorded in multi-track (although the Spring 1990 box set was not remastered from the multi-track sources) so all of the instruments are vivid and clear. On this particular Scarlet Begonias Phil shines once again, especially playing under Garcia's solo around the 4th-5th minutes. Jerry then cedes the floor and Brent takes some tasty B3 runs, and, if I'm correct in my listening I think Bobby takes a quick chord-based solo, which is really neat. Brent has some nice flourishes in the jam right around the 8 minute mark on this one, too, and then Jerry takes the MIDI for a whirl. I'm not always a fan of the MIDI stuff, but I don't find this one off-putting at all. What makes this version stand out to me is that it doesn't go into Fire On The Mountain, which is not one of my favorite Dead songs. (Blasphemy! I know!) It eventually segues into Estimated Prophet, but the jam between the two is simply sublime. The more I've listened to the Dead closely in the past couple of years the more I can actually hear them "searching for the sound." I've always loved the riff at the end of Scarlet; that's something that never gets old to me. This version the riff leads off the jam, which is not uncommon, but it does not resurface at the end like it does as the coda to Fire in so many Scar/Fires. Instead they almost shift seamlessly into a tasty Estimated. But we'll leave that one for a possible future post.
Other candidates for today from 3/16/90: Loser and Bird Song.
I'm a BIG fan of this tour and love this box set. I hope that the fabled Vol 2 comes out soon with the remaining unreleased shows from the tour.
But do check out this Scarlet Begonias. It's a great one from this era and should be easily available!
Complete Setlist 3/16/90
[AMAZONPRODUCTS asin="B00772M2Y6″ features="0″ locale="com" listprice="0″]