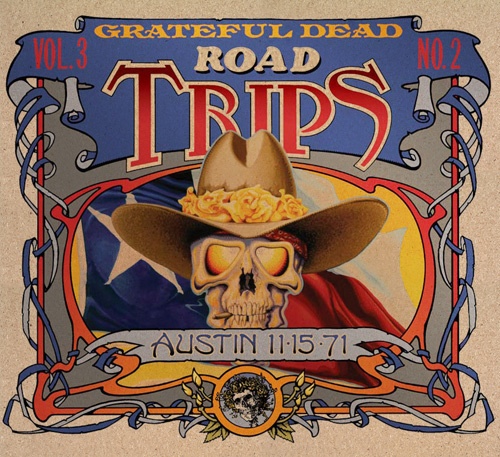 I kind of wish that One More Saturday Night maintained the same level of energy and grit throughout the Grateful Dead's career as it received on this evening in Austin, Texas.
It's a rip-roaring good time and it sounds like the band is going to self-destruct if they don't get the energy out. I know that One More Saturday Night was new to the repertoire in late 1971 but I didn't realize how new apparently. It debuted on the first night of the tour in Minneapolis (10/19/71) along with several other tunes, and this was the 15th performance. That may help explain some of the explosive energy as well. It's similar to the zeal with which a kid plays with a new toy. This also reminds me why I've developed such an affinity for 1971. There's just something about the bar-band Dead that really does it for me.
It's hard not to have a good time listening to this song and it's equally fun to play. I tend to have a bit of trouble with the precise timing of the walk-ups but haven't woodshedded the song in years. Perhaps it's time to do just that. It's not terribly complex, as it's based on a basic blues template, but the timing of the walk-ups are probably the hardest part to nail in the song.
That introductory guitar line is infectious. Phil bops his way in with some quick eighth notes. He remains high in the mix throughout and you can really hear how well he moves around within the song. Keith, still the new guy at this point, fits right in with some blues boogie piano. Garcia takes a fierce solo packed with energy. It seems like everyone is feeding off of Phil and trying to match his intensity here. Billy unleashes some major high-hat work during the main jam section. The walk-up has it's desired effect and the boys just run with it – both times in fact. Jerry scoops through the changes with fiery blues guitar and Phil thunders away until the very end. A raucous version of One More Saturday Night that will leave you gasping for breath. Bobby announces a break, but Jerry noodles around a bit before leaving the stage.
Complete Setlist 11/15/71
Previous One More Saturday Night DFAY Selections
[AMAZONPRODUCTS asin="1250033799″ features="0″ locale="com" listprice="0″]