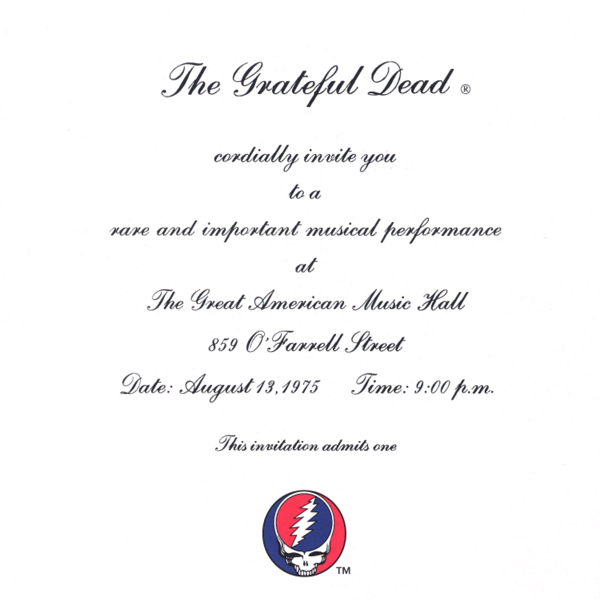 Sometimes you just feel like something different.  In the back of my mind I know what a given Dead era sounds like so I scan through my library looking at album covers to see what might pull me in on any given day. As I sat down to compile info for our 2013 taxes today I opted for One From The Vault. I haven't listened to this show in a LONG time, but I know it's got a great Help > Slip > Frank with a fantastic Bill Graham intro. So I decided to give it a spin. Boy, what a treat! This show has a bit of everything: rock, funk, jazz, you name it, it's probably here. The Dead didn't play a lot of shows in 1975 during their hiatus, but what they DID play really stuck out. This whole show is no exception.
When you sit down and think about what the Dead did with this country tune it's pretty amazing. It's got that train-barreling-down-the-tracks drum shuffle, and Weir's funky rhythm part underscoring the entire operation. One of the things I love about this entire show is Keith's playing. He's really putting it to the Fender Rhodes and the sound is just so classic and warm and sweet that it takes a bit of the edge off the funk in this tune, but adds to it at the same time. Keith takes a solo around the 2 minute mark that showcases what exactly I'm talking about here. Just a crazy dynamic. The star of this track, and I've seen discussions elsewhere about it, is Garcia. You can tell that he is fired up and he coaxes notes out of his guitar in rapid succession at a blistering pace. Pretty much the only time Jerry is NOT tearing it up on this song is when he's singing. When his vocal services were not needed he just lets loose. The final solo pairs Jerry and Keith nicely and seems to really cement them as the stars of this particular version of the song.
This is one of those shows that should be in every Dead Head's collection.
Complete Setlist 8/13/75
[AMAZONPRODUCTS asin="B00G0OMC56″ features="0″ locale="com" listprice="0″]