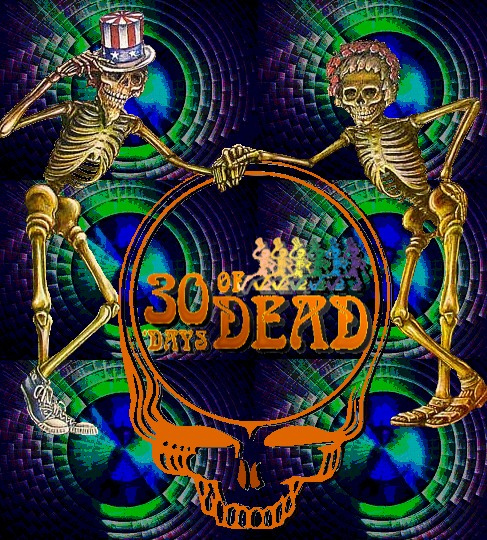 The setlist for this show only has two songs listed: Alligator and Turn On Your Lovelight. It's unclear to me if the Dead just played a really short set (as I believe they were touring with a number of other San Francisco bands at the time) or if we simply don't know what else might have been played that evening.
Regardless, I'm glad that David Lemieux included this version of Alligator in the first 30 Days of Dead back in 2010. There are a few Pigpen songs that I always like and can use more of in my collection and Alligator and Caution are right at the top of that list for me.
For some of these songs it can be a challenge to find a good standalone version, and as such I have a feeling I'll get around to including the massive Alligator > Caution from Dave's Picks, Vol. 10. All in good time though.
For now, this tasty nugget from 1967 will suffice. Let's hope we get some more Alligators down the line.
Is it just me or does Pigpen sound really youthful on this tune? Granted he's not the greatest singer ever, but there's a clarity to his singing that I haven't really heard before. Garcia's guitar lines wind through the song long a reptile, which is more than fitting. The backing vocals remain a bit rough through out, but the mix here is phenomenal, at least I think so for a 1967 recording. Phil sounds a bit muddy at times, but even so there's little trouble picking out what he's doing. After about three minutes all the singing is over and a sonic wave of organ and guitars envelops your ears. Is Pig still playing a Vox here? It doesn't sound as go-go-ish to me, and has a little more of a B3 sound to it. Regardless, he's able to hold down the fort quite well, giving Jerry time and room to crank up and rattle off explosive runs. It sounds like Phil is trying to catch up to Jerry and essentially there's a lead guitar and a lead bass dueling for supremacy, but in a convivial way. Around the 7:00 mark the guitar playing takes on a much more percussive vibe. I can't remember hearing anything quite like it before, so check that little segment out. It's pretty cool. Then it's back to the stratosphere where things are whipped into a frenzy by the time the "Alligator!" shouts start around the 10 minute mark. It's a cacophonous end to the song, but one that screams, quite literally, primal Dead!
Complete Setlist 8/5/67
Previous Alligator DFAY Selections
Also in Rotation
: Yesterday I threw on
Fitzcarraldo
by The Frames. A great modern rock album. Highlights include the title track and the opening song, Revelate.