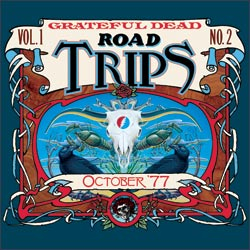 I've said it before, but I'll say it again: hands down my favorite Grateful Dead song sequence is Help On The Way > Slipknot! > Franklin's Tower.
This sequence started off the first set on this evening in Oklahoma, and once the sound gets dialed in it's a real corker. This version stands out for a few other reasons as well, and I'm not just talking about Phil playing like a total monster throughout either.
First, this was the first stab at this sequence in over four months. Also, it was the only time it was played on that fall 1977 tour. In fact, this was the last Help/Slip/Franklin's until March of 1983, which means it was also the last one with Keith and Donna, too. That's a whole lot of responsibility for a set opener. Yet they managed to handle it with aplomb. All told this is almost 25 minutes of pure bliss.
I'm not quite sure at what point the band simplified the Slipnot runs, as I haven't listened to the March 1983 versions, but perhaps a reader will know off the top of their head. Personally I liked the longer, more complex version, but when it gets down to brass tacks I just want to hear the songs played and such a minor change doesn't ruin it for me.
I had to turn this one up to really hear it well, but the volume seems to improve a bit as the song goes on. Keith is a bit low in the mix as is Bobby guitar in places, but Phil is front and center. The instrument balance improves as the song progresses. Jerry takes a few extra passes through the verse chords with his solo here. I'm certainly not complaining, and in fact I wish they jammed out Help On The Way like this more often. Garcia is a bit iffy on the lyrics in a few places. Not any true flubs, but definitely some near misses. As they start the Slipknot! jam Phil is sliding all over the place. The splicing of this sequence is a bit interesting. The diminished runs that typically signal the start of Slipknot are left on the Help track.
The track shifts over to Slipknot with the big A minor jam. Phil fans will continue to love this. Jerry's playing here is sinewy and adventurous. The minor key seems to provide fresh inspiration as do some of those diminished (or are they half diminished) tones from the other section of the song. Phil lays down a throbbing baseline as Jerry goes through the double-time parts. It's nice to hear that he still goes through the entire progression instead of cutting it short like they did in later years – at least I think I hear the whole thing.
Franklin's Tower makes its entrance known right away. The volume picks up and the tempo bounces along briskly. Phil seems intent on ensuring that the dew doesn't not accumulate and indeed rolls away. Jerry takes a slower, more methodical approach to the same issue. As the jam starts to build Keith juts out on the right side, his keyboard sounding a bit distorted. I'm not sure what he's playing there but I wish there would have been a bit of it during Slipknot. That would have sounded cool. After a while the dynamics come down and Jerry sings another verse to give everyone a brief respite. Another lengthy jam ensues with plenty to grab your attention. It's a clear another verse is on the horizon when Phil starts to simply vamp on A and the band brings it way down again. Some more spritely playing from Mr. Garcia follows that verse and the song slowly but surely builds. About midway through the eleventh minute both Bob and Jerry get into a frenzy and bust out some cool guitar parts before settling into the groove once again. Finally a last chorus ekes out of Jerry before they end the song. I will say that I always love the little chord progression they use to end Franklin's, that A, Cmaj7 with the riff that lands back on A just gets me every time.
Complete Setlist 10/11/77
Previous Help > Slip > Franklin's DFAY Selections
[AMAZONPRODUCTS asin="B00HBHKHKS" features="0″ locale="com" listprice="0″]