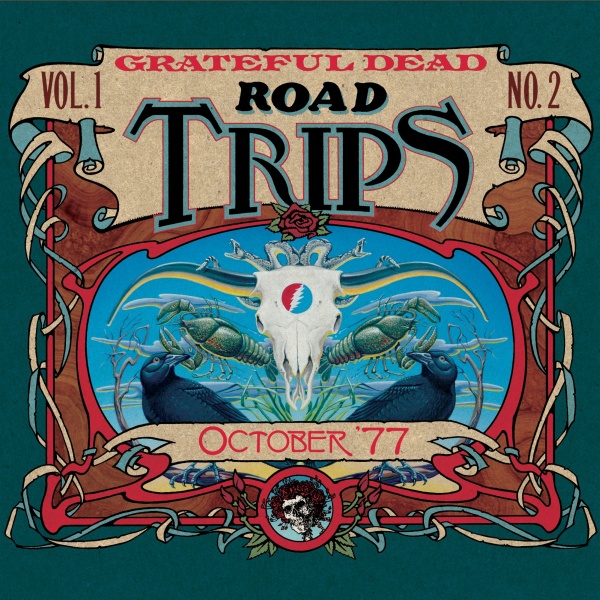 I will go on record saying that I like complete show releases, however, I also recognize that that also places restrictions on a lot of material, especially from the 80s. The Road Trips series seemed like a wonderful remedy to this problem, however, it was quickly met with complaints about incomplete shows and David Lemieux quickly caved to pressure and started releasing full shows in that series. (I think part of the problem was that if part of a show was released the ENTIRE show was removed from archive.org.) It's a shame really, and Dave even pointed out that a lot of the Dick's Pick's releases were compilations from one, two, or three shows. Of course, when DPs first started coming out shows weren't as readily available as they are now. Road Trips, Vol. 1, No. 2 was one that adhered to the original ethos of the series and it's a real corker! It starts off with Let It Grow from 10/11/77 in Norman, OK, which I've selected for today's song.
The band almost seems to fade themselves in to the song. This version moves along at a brisk pace, which is one of the reasons I like it so much. Donna sounds really good here, too, which helps. She can be a bit pitchy at times, but not so here. She's right in sync with Bobby. I can only assume that the person whacking away at an unknown percussion instrument is Mickey, and I like it! Phil really makes his presence known in the first chorus section, throwing in a few chords on bass in addition to his articulated runs. His tone is both fat and punchy, an interesting combination that sounds really good. The diminished chords in this song seem to give the guitarists some interesting options to play around with and they do so with aplomb.
Jerry dances circles around the fretboard with his fingers here in the solo. He really lets loose as the band works its way through all of the different sections. This section of Let It Grow is a favorite of mine. The main chord progression is relatively simple, but there are a couple different scripted passages that help keep things moving and really interesting. It rarely fails in my book.
Right around the 6:15 mark they enter a jam that I have not heard in a Let It Grow before. It's a bit heavy and sounds really cool. This moves directly back into the chorus, which is very pensive as it begins, offering a sharp contrast in styles. Very cool. As they wrap up the singing and move to another solo section Jerry and Phil really shine. After another feverish solo they bookend the song by fading out quietly in the same way they started the song.
The circle remains unbroken.
Complete Setlist 10/11/77
[AMAZONPRODUCTS asin="B00HBHKHKS" features="0″ locale="com" listprice="0″]