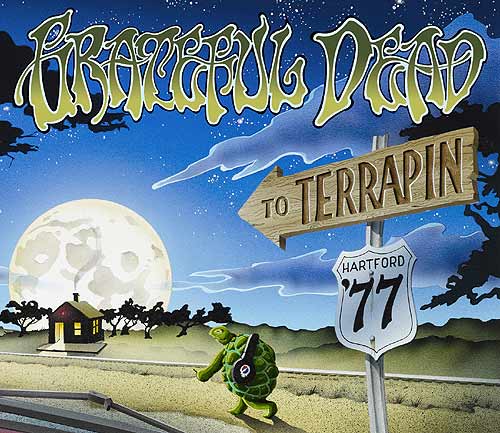 Whether you count Estimated Prophet in 7/4 or 7/8 (I've seen it represented as both at various times) it remains a tricky song to play. At least for me it is, but a large part of this is Phil's inventiveness combined with a complex time signature and it's difficult to really improvise too much off the main riff. I find myself concentrating on counting too much to be able to throw in any extras. Of course, this is one that I've only really tried to play along with the recording. It'd take a seasoned crew to be able to pull this one off well, in my opinion.
This particular performance was taken from the To Terrapin album, which documents the final night of the fabled May 1977 tour at the Hartford Civic Center in Hartford, CT. There are a lot of stars in this show, but this version of Estimated fit the mood of what I was looking for today.
What jumps out at me right away is that Jerry's tone has a bit more reverb to it and less of the envelope filter 'thwack' sound. It sounds like Bobby might have hit a sour chord before the singing kicks in, but it's a quick recovery if I'm hearing things correctly. Everything else sounds pretty good. The band is tight, the backing vocals don't raise any red flags.
There's a big hit right after Bobby sings "might and glory gonna be my name" that adds some oomph. I like the rolls that Keith adds to the bridge section of this song too. This version has a solid representation of that. As the band works its way into the solo section, Donna adds some "oohs" that sound very nice. When she could hear herself on stage she generally sounded really good. It's just a shame that didn't happen more consistently.
Into the instrumental section Keith's playing is almost reggae-esque. There isn't a lot of deviation from the basic groove by the foundation players – Bobby, the drummers, and Phil to an extent keep things pretty straight forward and let Jerry do most of the exploration here. Bobby's playing is both percussive and jangly, not that this is unusual, but more that it's very noticeable in this recording. Jerry reels it in and after a few "nah nah nah"s the song seems to fade out only to almost slam in to Playing In The Band. The transition is a bit sudden and unexpected, but then again, so were the Grateful Dead.
Complete Setlist 5/28/77
[AMAZONPRODUCTS asin="B00DE22Y0U" features="0″ locale="com" listprice="0″]