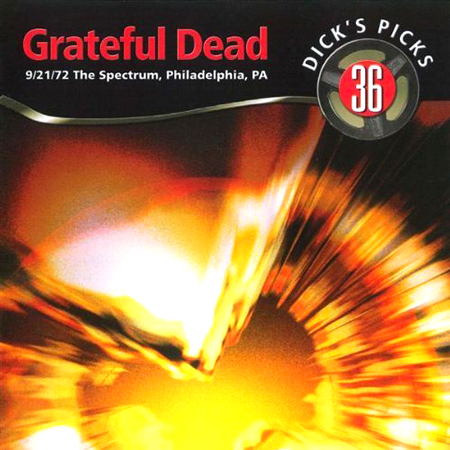 As I mentioned previously, I have a number of MP3 CDs in my car. Unfortunately, the device does not always recognize/play every MP3 on a given disc, even though I use the same process for converting all my MP3s. Makes no sense. On my way home from class last night the CD player in my car decided it didn't like my Dead 1990 MP3 CD so at the next stop light I quickly swapped out 1990 for 1972. Of course, the first folder wouldn't play – ARGH! – but the next folder was DP36. I quickly skipped the Promised Land opener because, honestly, I can't stand the Chuck Berry covers. They are way too common and it's the same 3 songs. When they segued one right into the next it like a kick in the setlist nuts. At least with the Dylan covers (which I tend to skip as well) there are about 10-12 songs between Jerry, Bobby, and Phil that there's a bit more variety. Actually, there are some Dylan songs I don't mind, but a lot of them I skip past…
The more I listen to Weir's playing the more I appreciate his unique approach to the instrument and especially his understanding of the rhythm guitar in a band like the Dead. As I rushed home in order to help with my son's bedtime this Bird Song just kind of fit. It loped along in places, but didn't drag and has some really interesting jamming as well. Right around the 4 minute mark there's a nice melange of Keith's block chords and Jerry's lead that gives way to a Keith piano solo. I'm not enough of a gear head to know Keith's setup at this time, and I can't tell if what follows is a keyboard with some sort of effect/filter on it, but it sounds really neat. Kind of like a Fender Rhodes hooked up to a wah wah (might have been Jerry for all I know), but it folds effortlessly back into the grand piano that it makes me think Keith was spinning from one set of keys to the other. Regardless of who was doing what, it's an awesome passage and really jumped out to me as something unique.
I've read elsewhere that these late September 1972 shows were high on Dick Latvala's list and it's easy to see why!
Complete Setlist 9/21/72
[AMAZONPRODUCTS asin="B005NSROLC" features="0″ locale="com" listprice="0″]