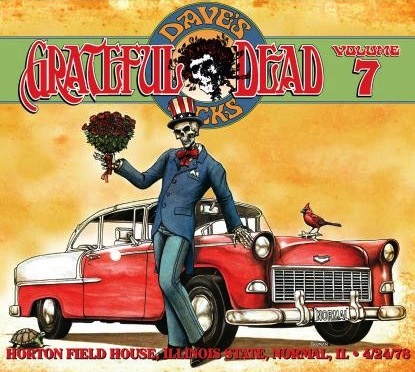 Some may say that going back to Scarlet/Fire so soon is a cheat move. I call B.S. because can you really have too much ScarFire?
Based on the comments this release generated it seems like people either loved it or loathed it. I think there is enough interesting and unique playing in this show to keep listeners interested. Of course, the Scarlet Fire is near the top of the list for this particular show, and for good reason. Throughout the show both of the drummers are making a case for themselves and it's worth listening too. There are segments in this song sandwich that reveal the ferocity of their playing on this particular night.
Where do you stand on Scarlet Fire? Let me know in the comments.
The Dead may have been in Normal, but this Scarlet Fire doesn't necessarily fit that bill. Keith sounds energized and plays lots of nice runs here and Phil is sliding all over the place. It can be a bit sloppy sometimes when he does that, but here it seems to work. The first big instrumental break in Scarlet has plenty to be celebrated. Both Jerry and Keith seem to be pushing each other, which didn't always happen as the Godcheauxs neared the end of their tenure with the band. Phil holds down the bottom quite nicely and throws in tasteful runs and licks throughout. Donna croons some nice "Ooos" during the last verse, and her wailing during the Scarlet outro riff isn't too bad, IMO. Everyone seems content to lay back and give Donna the spotlight; The playing here is very sparse. It's almost as if the band wants to end the song, but feel compelled to push through into Fire. The drummers are keeping busy and add in some nice percussion sections as we wait for the transition jam to build. Donna steps back and Jerry and Keith begin to assert themselves again. Weir throws in some scatters notes with his slide, a precarious and often dangerous omen. He keeps it dialed back for now, which is much appreciated, making it easier to enjoy the Jerry and Keith show. After several minutes of enjoyable jamming Weir brings the slide back and the band slides into Fire
The rhythm shifts and the band quickly establishes themselves in Fire On The Mountain. Weir keeps at the slide and it's not terrible. In fact, it's actually not too bad. Jerry plays around with some effects, switching up his tone and approach to match the effects. An interesting little interlude. During the verse things dial back a bit. Weir adds some nice guitar figures, and Donna joins Jerry for the chorus. Almost immediately Jerry seems eager to bust out another solo. No one seems to oppose the idea and Jerry let's loose. Even Bob's slide can't ruin this. Usually the drummers aren't a focus for me, but pay attention to what they're doing here. It's like they're exacting revenge on every piece of percussive equipment on stage. They're playing with a drive and force only reached on occasion. There are lots of things that make this version noteworthy so it's definitely worth a listen.
Complete Setlist 4/24/78