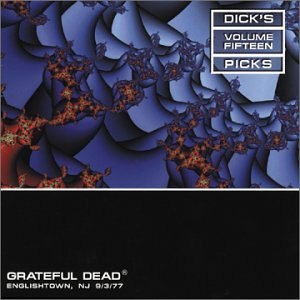 I was driving home from class last night and was listening to Dick's Picks, Vol. 15 when this version of Mississippi Half-Step came on. Maybe it was all the green lights that I hit that made me able to concentrate, but as I was driving along I started to notice just how long this song lasted, and the longer it went the more I liked it.
So without further ado, here's my breakdown of what's going on this night in New Jersey.
Who is Saddy? With a title as lengthy as "Mississippi Half-Step Uptown Toodeloo" I think we can forgive Jerry his flubbing of "daddy" with "saddy." I mean the title alone is enough to get one tongue tied.
Everything else starts off as one would like. The mix is good here and everyone is pulling their own weight. Garcia takes his first lead and Phil moves briskly along as well with a really full, warm bass tone. Keith skips down the keyboard as they go return for verse 2. Bobby throws in some really cool licks in the 2nd half of that verse. All three vocalists, Jerry, Bobby, and Donna sound solid on the chorus.
Jerry starts the next solo passage and quickly takes flight, adding in a few quick runs in the upper atmosphere. This is just a standout version in general as everyone is doing something cool.
Around the 4:30 mark they shift to the "Across the Rio Grande-io" chord progression and things really start cooking! At around the 5:45 mark it sounds like Jerry, Bobby, and Keith are all soloing simultaneously and somehow it just works. After building to a fever pitch, they settle down around the 6:30 mark. The song takes on a very laid back feel and Phil takes the dynamic break as an opportunity to exert himself in a few pointed instances.
You can sense that Jerry is getting ready to take off again around the 8 minute mark, and the drummers and Phil slowly take the cue and start to build the dynamics again, but it quickly plateaus and returns to the laid back feel, almost as if the music itself were mimicking the lazy river.
It's not until the 9:30 mark that Jerry actually starts in with the vocals on the "Across the Rio Grand-io" lyrics, and Donna quickly joins, followed by Bobby. They're not perfectly in sync, but that's a minor quibble as they all sound on point and on key. Just before the 11 minute mark Jerry takes another solo. You can faintly detect the melody implied underneath for a while before he states it more acutely. As the song builds Jerry starts to do some of his "fanning" and it sounds like Bobby tries a bit himself at one point.
The number comes to a close with a couple throbbing chords from Phil and Keith meandering into the upper register.
All told this version of Mississippi Half-Step clocks in at 13 minutes. A quick look at my library shows this number typically in the 7-10 minute range so they stretched this one a bit more than usual, and everyone benefits!
Complete Setlist 9/3/77
[AMAZONPRODUCTS asin="B00DE22Y0U" features="0″ locale="com" listprice="0″]