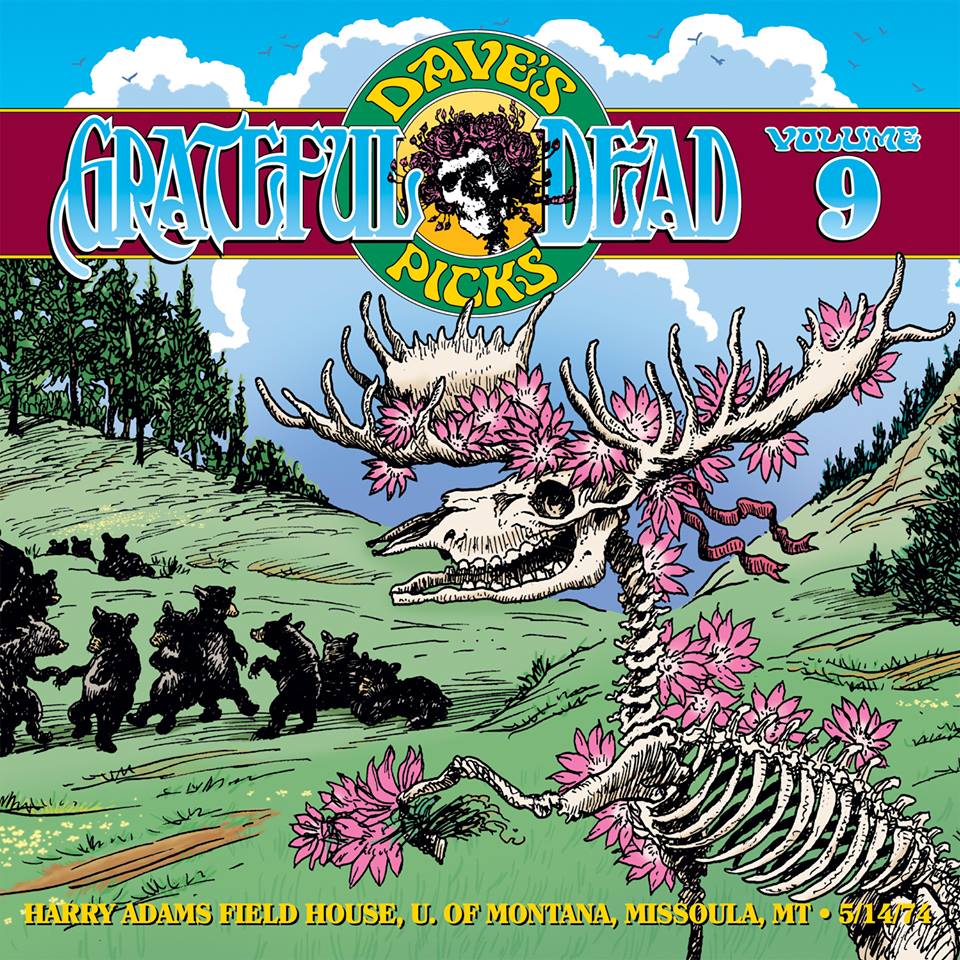 When Dave's Picks, Vol. 9 came out a lot of people talked about this Dark Star before and after its release. I fully admit that I don't listen to shows really closely a lot. Mostly I listen to music at work so I'm multi-tasking and I can't give the music my full attention. Everyone was talking about how intense, deep, and spooky this Dark Star was. This sounded intriguing to me, especially since my favorite Dark Star is the one from Dick's Picks, Vol. 2 which is decidedly NOT these things.
I can't imagine standing in a campus arena, being faced with the wall of sound, and hearing this music emerge from the speaker cabinets. I think it's fair to suggest that this Dark Star is darker than many. As I mentioned yesterday, just thinking about this type of performance in context makes me lament the decline of on-campus performances that seems to have occurred in this country. If that's not the case where you are let us know in the comments. I'd love to know where the "cool" schools are these days. It reminds me of a shirt my brother-in-law showed me recently. It read: "I may be old, but at least I got to see all the cool bands." or something along those lines. Ain't it the truth?!
This is a very jazzy Dark Star right off the bat. Billy is really swinging and Phil is all over the map. There's a very laid back quality to here, and you can almost feel the song as a whole inhale and exhale deeply. Familiar themes or lines creep up only to be transmogrified into something wholly new. At one point it sounds like a duet with Jerry and Billy, as Phil, Bob, and Keith have almost dropped out. A neat and unique little passage there until the others slowly re-enter the proceedings. Phil takes the lead for a little while, before Jerry wrests control of the cosmic vessel back for himself. The journey into the ether continues for a quite a while and a plethora of dynamic changes frame it. Jerry briefly teases the main Dark Star theme around the 12 minute mark and a bit more form takes shape. Eventually the rest of the band picks it up; a groove is established; the first verse is sung. Naturally, once the verse is done all form is once again jettisoned. Garcia plays around with his volume knobs and Weir's guitar sounds like it is possessed by a ghost. Right around the 20 minute mark things get REALLY weird for a bit. Stuff like that could really freak someone out if they weren't in the right head space. Of course, you can hear the crowd cheer as that section ends. Phil sets to rebuilding the structure they just tore down and lays down some great fretwork on the bass. The song continues to snake and wind until finally landing on China Doll. What a ride!
Complete Setlist 5/14/74
Previous Dark Star DFAY Selections