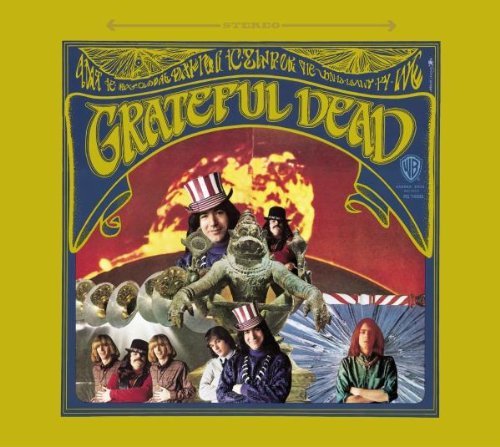 When I first started listening to the Dead I didn't really like Viola Lee Blues. In fact, I didn't really come around to it until quite recently when Furthur used it as a thread to hold a setlist together, weaving in and out of the song into others and back again. I think it was something about that big dissonant chord they play, but no matter. I've now seen the light and have come to really like this jam.
I don't know how most people feel about the remastered studio albums that were put out a few years ago, but I'm a big fan. The fact that they went ahead and filled up the rest of the CDs with music is a huge plus in my book as well. I'm on record as being a big fan of the band's studio work, but all of the extra live cuts are too much to pass up. There are some really good studio outtakes as well, but I love the live stuff. (For another example of the bonus life material from these releases check out this Eyes of the World.) All of these expanded remasters are available in 2 box sets – The Golden Road covers 1965-1973, and Beyond Description covers everything from 1973-1989 (with the exception of Steal Your Face, which was not remastered in lieu of The Grateful Dead Movie Soundtrack).
The song quickly fades in right at the tail end of the first verse. Fortunately, to placate this gap in the tape Jerry immediately throws down a quick, blistering solo. The "wrote a letter" verse is next, followed by another solo. This one is a not as fervent as the first salvo, but still moves along quite nicely. The guitars have that nice, organic, overdriven tube sound.
After a few minutes things settle down a bit. You can hear Pigpen adding some organ flourishes, and Jerry seems to be searching for where to go next. Right when you think Garcia is building to something big, he brings is way down again. Billy kicks in a steady drum beat, with a number of snare rolls to boot, and seems to provide an appropriate foundation. Around the 7 minute mark Jerry really steps out front again, his tone much clearer and prominent. After a minute or so of jamming, Phil reaches for the upper register. The search for the sound continues and Jerry seems intent on cementing his place as a blues rock hero here.
The peaks and valleys continue to emerge for several more minutes so sit back and just go with the flow on this one. The whole things starts to get really crazy around the 15:30 mark. It sounds like it could go off the rails at any moment. The crescendo continues to build until we're suddenly dropped back into the song's regular structure and groove. Jerry finally starts back on the main melody line, one that's dripping with overdriven tone once again. It isn't until past the 22 minute mark that the band comes back in with vocals, almost 20 minutes since last stepping to the mic. They deliver one quick verse and then the song peters out.
[AMAZONPRODUCTS asin="B00005OWEZ" features="0″ locale="com" listprice="0″]
[AMAZONPRODUCTS asin="B0002NUTS8″ features="0″ locale="com" listprice="0″]