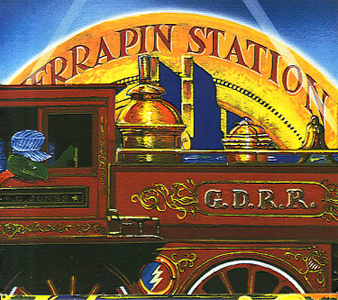 Is there a more obvious selection from the Terrapin Station Limited Edition set than Terrapin Station itself? The answer is no, and I'm not sorry about it.
The Dead played most of the cuts from the original Terrapin Station album at this show, or at least that's how it was originally marketed, if I recall correctly. For me, it's simply a welcome addition to my Spring 1990 collection. I've been avoiding listening to the yet-to-be-released shows for a few weeks now in anticipation of the new box set that will complete the tour. Since we're still a few more weeks out from the street date for that box set I've been supplementing with some of the other official Spring 1990 releases.
My love and appreciation for Terrapin Station knows no end. It's one of the few songs that I made a smart playlist for in my iTunes that pulls every version I have into one place. The song just has presence and drama built into it that is impossible to dismiss as far as I'm concerned. This is a solid representation of Terrapin as of spring of 1990. I'm a bit disappointed we're not getting another multi-track mix Terrapin with the new box set, but there are at least three on this tour and the version from Dozin' At The Knick is top notch, so I'm not THAT disappointed. This one certainly helps to fill the void though.
Brent plays some nice descending lines during the intro. He briefly throws in a synth wash… be careful with that sir! The playing here is powerful yet crystalline in places. The first instrumental passage is subtle and understated, almost as though Jerry is saving his energy for later. All the MIDI flying around makes it difficult to tell who is doing what at times, but the transition from Lady With A Fan to Terrapin provides Jerry with some room to stretch out and he finds some new phrases to insert into this opus. The Terrapin section begins and the vocals sound clear and on point. Some don't like Brent's lead work, but this shows just how great he was as a backing vocalist. The band starts to build up their sound as the end of the Terrapin lyrics near. Garcia flips on some distortion and makes his pilgrimage to Terrapin complete. The drummers throw in some cacophonous percussion of their own here too with big, booming hits. Jerry opts for a woodwind patch, perhaps a bassoon or an oboe? The sound it almost guttural and reptilian. Someone is just assaulting their cymbals here too. For such a structured piece of music the Dead take it in some interesting and pleasing directions. The fury has settled down a bit by the 12:00 mark. Are those pan pipes Brent's opted for in his MIDI arsenal? Umm…. nevertheless the runs through the Terrapin riffs and licks continue, but at a more relaxed pace until the entire thing devolves into a new jam.
Complete Setlist 3/15/90
Previous Terrapin Station DFAY Selections