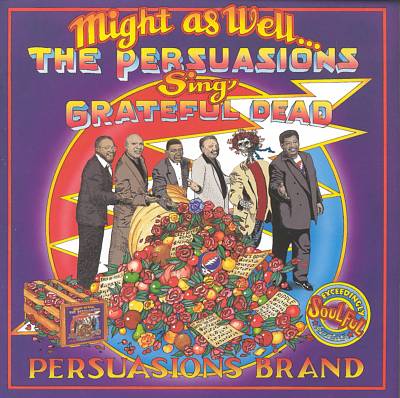 A lot of different artists have covered Grateful Dead songs over the years. My goal this week was to try to highlight some of those that removed these songs from the contexts in which we usually find them (i.e. rock) and explore the adaptability of the songs themselves. One More Saturday Night achieves this quite nicely in the hands of the a capella group The Persuasions.
Now the original album that was released was called Might As Well, which is where this track came from. That disc has been long out of print, so a couple of years ago some decision-maker somewhere decided to release much of that same material and a little more. (The links above are to the newer release, as it's much more affordable!) I haven't A/B listened to the songs that are on both, but I don't think there is any/much tweaking done to the songs.
The Persuasions are (were?) a premier a capella group. This song has a bit of piano (Vince Welnick) and guitar (
David Gans
) accompaniment, but the real story here is the vocal arrangement. The song went from a Chuck Berry influenced rockin' blues, to a urban corner doo-wop in the able hands of the Persuasions. Their vocal blend is amazing, and the way each individual singer is able to use their voice to mimic other instruments blows my mind. There's not really much more to say, other than to listen in awe!
Previous One More Saturday Night DFAY Selections